The 2021 Subaru Love Promise Community Commitment Award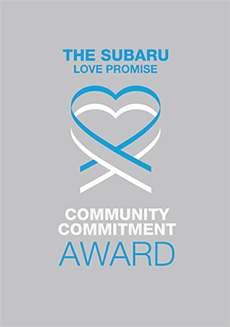 We've been nationally recognized for our dedication to our community and the Subaru Love Promise.
We're honored to receive the 2021 Subaru Love Promise Community Commitment Award. This award nationally recognizes Subaru retailers who are making the world a better place while demonstrating an outstanding commitment to supporting passions and causes in local communities. These efforts are focused in important areas such as the environment, community, health, education, and pets.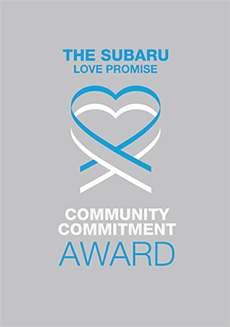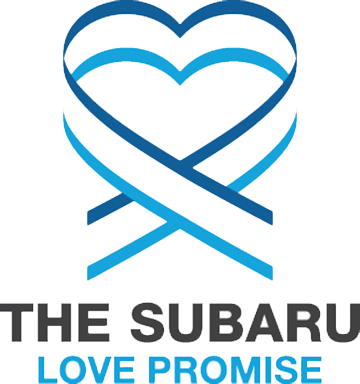 What is the Subaru Love Promise?
Subaru and our retailers believe in making the world a better place and the Subaru Love Promise is our vision of respecting all people. This is our commitment to show love and respect to our customers and to work to make a positive impact in the world.
How is Halladay Subaru dedicated locally to the Love Promise?
Our Love Promise can be seen in various partnerships with local charities and non-profits. We're grateful for the opportunity, not only to be a part of our community, but to serve it as well.
Cheyenne Animal Shelter, Black Dog Animal Rescue
Laramie County Community College, ARP ELEMENTARY SCHOOL, St. Mary's Catholic School
Cheyenne Childrens Museum, Make-A-Wish, Climb Wyoming, United Way of Laramie County, Boys and Girls Club of Cheyenne
Love Promise Stories from Halladay Subaru
Subaru and Halladay Subaru believe in making a positive impact on the communities in which we live and work. We uphold that belief through our Love Promise Community Commitment. Every month, we select inspiring stories from customers and partners from around our area who strive to support our collective commitment and feature them here
Halladay Subaru Demonstrates Education Matters - Brooks C
On behalf of the Youth Alternatives' family, we send a huge thank you filled with appreciation. Your gracious sponsorship of our young adults with their future education, not only has an enormous impact on the young adults themselves but also on our entire community. You give us hope and example on making positive changes by leading with your donation of time, talent and treasure. The lives you have changed will in turn be ready to help lead, guide and be champions for change. Due to your generous donation, we were able to honor nine (9) young adults scholarship funding to further their education this year. For many of the these young adults, the scholarship funding will make college much more affordable. Many of these young adults will be attending the University of Wyoming in the Fall 2021 as well as University of Utah, University of Northern Colorado, and Central Wyoming College. They will be studying in a wide range of programs that include Psychology, Cinematography, Social Justice, History, Dance Performance, and Kinesiology. We are very happy with the nine (9) young adults that were chosen and feel that they will represent Halladay Motors-Subaru as well as Youth Alternatives well at the colleges and universities that they have chosen. In closing, we are grateful for the relationship with Halladay Motors-Subaru. You have allowed us to help those we serve to dream of a higher education degree. Your gift will change the world.
---
Helping Those in Need-Meals on Wheels of Cheyenne - Stephanie F
Meals on Wheels of Cheyenne is very grateful to Halladay Subaru for their continued support of our program. The "Share the Love" program funds help ensure those most in need in our community receive a hot meal and a visit from a volunteer every day. The pandemic brought many challenges to our organization, and the money received from Halladay Subaru helped to ensure we could continue providing meals during this time of need. The community support we receive is vital for us to be able to meet our mission and community leaders like Halladay Subaru are committed to helping us achieve this goal. A very special thank you to Halladay Subaru for helping us make a difference in the lives of so many people in our community.
---
Halladay Subrau Supports Youth Alternatives - Brooks C
Over the last four (4) years, Halladay Subaru has supported youth in Youth Alternatives' programming by helping with funding for youth who are furthering their education. Due to the continued support of Halladay Subaru, Youth Alternatives has awarded eighteen(18) scholarships to youth to help further their education in or outside of Laramie County over the last four (4) years. Many of the scholarship recipients have overcome adversity and struggles in their lives and the scholarship funding provided by Halladay Subaru has helped them take steps towards achieving their future goals. Our community is very fortunate to have individuals like Mr. Allen, Mr. Casey, and the whole Halladay Motorsteam who continue to show their commitment to youth and families in the Cheyenne community. We at Youth Alternatives will always be grateful for the continued support from Halladay Motors and Halladay Subraru.
---
Helping Wyoming Low-Income Single Mother Families - Bonnie S
Thank you Halladay Subaru for supporting Wyoming low-income single mother families through a generous donation to Climb Wyoming. During the current COVID-19 crisis, Climb Wyoming staff are serving as a resource hub for moms and their children during this critical time of need. Climb's model, developed over the past 34 years, intentionally creates structure, support, and skill-building in times of crisis. We're helping families access the tools to calm chaos and chart a path in unfamiliar territory. Staff are meeting with single moms in safe, responsible ways to ensure these families are connected to community resources, while continuing to support them with advocacy, mental health needs, job training, and employment support. As Climb continues to support our candidates, graduates and participants, their safety and the well-being of our staff is top priority. The Cheyenne program was in the midst of a Professional Business Careers training when the pandemic hit. Staff pivoted quickly to connect these participants to technology in order to continue group and individual counseling, provide additional parenting resources, and complete the training in safe and responsible ways. Cheyenne Climb staff are currently researching a healthcare training to help fill local employer demand. Thank you, Halladay Subaru, for helping Climb not miss a beat in being right alongside the families that need us most. Together, we are making Wyoming families stronger so they are ready for whatever challenges and opportunities come their way.
---
Halladay Subaru Making A Difference In Lives - meals on wheels of cheyenne B
Meals on Wheels of Cheyenne is very grateful to Halladay Subaru for their continued support of our program. Funds donated through "Share the Love" program are vital to our continuation of services and allowed us to not have a waiting list for food and services. Our mission is to provide nutritious therapeutic meals to the elderly, disabled, ill, frail, convalescing, and other homebound persons so they can remain in their homes for as long as possible and age in place. In 2018 we serves 84,518 meals to the homebound in Cheyenne and Laramie County, saved 4 lives and conducted 1414 emergency interventions. 100% of our clients received doctor ordered therapeutic meals to help improve their health and meet their nutritional needs. Each person is assessed in their homes and other needed services are coordinated. The funds received allowed us to serve 5512 meals to seniors. and other homebound persons.Every year we reach out to the community for donations to support our mission,without the donation from Halladay Subaru we would have people on a waiting list who need food to survive. Our program also depends on volunteers to prepare, assemble and deliver meals each day. In 2018 we had over 33,000 hours of volunteer time and could not provide our services without their dedication and support. Drivers also check on the well being and safety of our people and we have emergency procedures in place to get help as quickly as possible. The community support we receive is vital for us to be able to meet our mission and community leaders like Halladay Subaru are committed to helping us achieve this goal. The need for meals is increasing annually and will continue to do so in the future. Support from the community will always be needed. A very special thank you to Halladay Subaru for helping us and making a difference in the lives of so many people.
---
Halladay Subaru Invests in Youth Alternatives - Brooks C
Over the past three (3) years, Halladay Motors-Subaru has graciously awarded Youth Alternatives with scholarship funds in the amount of twenty five thousand ($25,000) to award to youth that have participated in Youth Alternatives' programs. The scholarships further their education at a trade school, university, or college in or outside of Laramie County. Many of these youth have had to overcome struggles and obstacles in life making this opportunity that much more impactful. Due to Halladay Motors-Subaru generosity, twelve (12) scholarships have been awarded over the last three (3) years. Of those, three (3) scholarship recipients have went on to graduate with bachelors degrees (teaching, psychology, business) and others are working towards graduating. We can't thank Halladay Motors-Subaru enough for their continued support of Youth Alternatives but also the community of Cheyenne. Here is testimony from one (1) of the recent recipients of the scholarship: "Money has always been tricky for my family, my mother is single and raised me without much, if any, help from my father, and a nasty divorce left her in a lot of debt. She still recognizes how important a college education is and she has sacrificed everything in order to make sure I got the experience I wanted from school. Your donation allowed me to go to school, and for that, all I can say is thank you. The school has been everything I could have ever dreamed of, and it's because of the kindness you have for your community that I am able to achieve my dream. Thank you for this scholarship, and for not giving up on the kids that have made mistakes and strived to learn from them. We will all be forever grateful for the opportunity."
---
Halladay Subaru supports the Cheyenne Family YMCA - Patty W
At the Y, everything we do is made possible by our donors. Recently, Halladay Subaru contributed $5,000 as a lead gift to our Annual Support Campaign. Every year we reach out to the community for donations to help support our mission to promote healthy spirit, mind and body for all. Donations support the word "all". Donations support keeping the Y open and available to everyone, regardless of their ability to pay. Everyone pays something. But, if you cannot afford our fees we will work with you. It helps to have some individual and business leaders kick start our efforts by giving generous donations at the start of our campaign. This year Halladay Subaru was one of those leaders. Their generosity has gone a long way to ensure that the Y will be able to continue our work in this community. In 2018 we taught and watched over more than 500 kids in our child care programs, taught over 1,000 kids to swim, helped more than 2,000 family members play together at community events, coached over 1,200 kids in youth sports, taught more than 1,200 adults in fitness classes and another 1,200 in water fitness classes and assisted more than 150 families and seniors with financial assistance. All of this was only possible with the support of donors like Halladay Subaru. In total we served over 18,000 people last year. We taught Diabetes Prevention to help adults learn new habits to get and keep themselves healthier; Adaptive Sports for Disabled Veterans; NeuroFit for people living with Parkinson's; and a long list of other fitness and wellness classes. In the pool we taught children and adults water safety so they can enjoy swimming with friends and family. In youth sports we taught kids about teamwork, good sportsmanship and how to stay active. The Y is looking toward the future and how to help the Cheyenne community. The Y will continue to be the place for families by offering quality, affordable child care, family activities, swim lessons, youth sports and fitness classes. The Y will continue to be the place for seniors to enjoy health and wellness programs and to connect with friends. The Y will be a place for everyone by providing programs for all ages, an environment that welcomes all fitness levels and provides financial assistance.The Y. For a better you. For a better community. For a better country. Thank you Halladay Subaru!
---
Halladay Subaru supports Boys & Girls Club - Wendy F
Boys & Girls Club of Cheyenne is so grateful to Halladay Subaru of Cheyenne. Through their continued generous support of our programs we have been able to accomplish so much for Cheyenne's youth. During 2017, the Boys & Girls Club of Cheyenne provided services to 900 youth for a $10 annual membership. All the programs and activities offered revolve around one of three core program areas: Healthy Lifestyles, Academic Success and Character & Citizenship. Examples of these program areas are our SMART Girls initiative where girls learn about healthy relationship, body image, mentorship and being a confident young woman. In addition our Passport to Manhood is a program that promotes and teaches responsibility to young men, consisting of 14 sessions, each concentrating on character development. Since this 2010 the Boys & Girls Club of Cheyenne has had finalists in our 8 state regional art show.In addition, we initiated a new partnership Laramie County Community College, the creation of a college prep program for high school students. The high school youth program began February 15, 2018 in LCCC's center for Conference & Institutes. The program focuses on academic success, character-building and healthy lifestyles for high school students, targeting juniors and seniors, however all high school students are welcome. The goal is that these young adults see the pathway to getting into college or career. It is one of kind program with integrated on campus experiences: students will learn about a variety of careers and meet professionals working in marketable industries; career and education support with Professors; hands on learning in laboratories; and healthy habits programs in the UW Outreach facilities taught by Cent$ible Nutrition.Thank you Halladay Subaru for making a difference in the lives of Cheyenne's youth!
---
Halladay Subaru Helping LCCC Students! - Lisa M
Halladay Subaru is an outstanding community partner! They are giving five scholarships of $2,000 each to Laramie County Community College students for a total of $10,000! This is going to be an amazing benefit to students in 2018 pursuing higher education in any field of study at LCCC. This will benefit students attending classes in Cheyenne. The LCCC Foundation would like to especially thank Jim Casey and Tim Joannides for honoring longtime Cheyenne philanthropist, John Clay with this scholarship! Halladay Subaru is to be commended for investing in the future of our community college and its students! Thank you for this partnership.
---
Low-Income Single Mothers Achieve Brighter Futures - Bonnie S
Thank you to Halladay Subaru in Cheyenne for supporting Climb Wyoming and the single mother families we serve! Climb's mission is for low-income single mothers to discover self-sufficiency through career training and placement. With Halladay Subaru's generous support, the Climb program will provide not only the components necessary to help low-income single mothers move toward financial independence and family stability through job training and placement, but also services that extend well beyond. The innovative Climb program includes group and individual counseling, life skills and parenting skills training, financial and nutrition education and peer group support. In offering comprehensive services, we better prepare our participants for long-term success in the workplace, their communities and their families while helping them overcome their personal barriers to success to make permanent life changes. At Climb, success isn't just about getting a job - it's about financial independence for struggling mothers and changing the generational cycle of poverty one family at a time. Thank you to Halladay Subaru for helping to make a difference! Photo from left: Chris Allen, Halladay Motors Sales Manager, Shawn Casey, Climb Business Liaison, Jim Casey, Halladay Motors Vice President/General Manager, and Joni Fenwick, Climb Fiscal Administrator.
---